Other reference pages:

Research/Project Work

Java


HCI


Multimedia Authoring


Sound

Creative Graphics


Fractals


Anamorphic Images

---
---
Web Authoring
---
---
Resources concerning HTML creation and web-specific design principles.
Oh, and here's a link to Opera's home page, in case anyone wants to find out about "the third browser"!
Web Pages
HTML Authoring
Books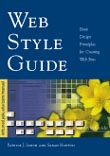 Title: Web Style Guide
Author: Patrick Lynch, Sarah Horton
ISBN: 0300076754
Price:
Publisher: Yale University Press
Year: 1999
This is a very good little book, and is also available online!! See Yale Style Guide, as linked to above.
---