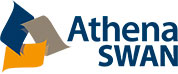 Athena SWAN: Advancing the Careers of Women in Science
The Athena SWAN initiative is a national charter developed by the Equality Challenge Unit for women in science. Athena SWAN recognises and promotes good practice in advancing women's careers in STEMM academia (Science, Technology, Engineering, Mathematics and Medicine).
At Stirling, we're engaged in a number of activities, including Athena SWAN, which are all about getting a more diverse group into Computing Science and Mathematics, and supporting people in their careers. Find out more about:
ScienceGrrl at Stirling - outreach activities to get more people interested in science.
Public Lecture Series - run every year in Spring. These are open to all, and free to attend.
Computing Science and Mathematics are working towards a silver application in the longer term, and are likely to submit a bronze award application in 2016. Details of our application will be here.