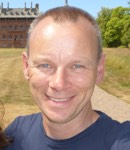 Who is Graham Cochrane?
I was born, raised and educated in Stirling.
I did manage to get away from Stirling for 4 years while studying for (and gaining) a BSc (Honours) in Electronics at the University of Dundee. I returned here to study for an MSc in Software Engineering, which involed a further six months away from Stirling while on placement at STC in Harlow, Essex (this area of the world certainly made me appreciate what Stirling has to offer!). After gaining the MSc, I took up the post of Computer Officer here within Computing Science and Mathematics at the University of Stirling.
I now live and work in Stirling.
What is a Computer Officer?
There are two Computer Officers in Computing Science and Mathematics, me and Sam (Senior Computer Officer) and we are collectively known as the Computer Support Group (CSG).
It is our job to install and maintain the computing and networking equipment within CS&M and to install the software that will run on the many and varied computers. As well as the more glamourous computer hardware and software side of things, we turn our hands to the mundane tasks of changing printer paper and toner too!
My main activities include UNIX, Windows and Mac system administration and the installation and maintenance of software packages on these operating systems.
I am the CS&M Safety Officer, Fire Officer and Workstation Assessor.
What else do I do?
Although not being particularly talented at any one sport, I do like to get myself and others involved in a wide variety of sports. Being a member of staff at Stirling University also allows me to take part in any Intra-Mural sport, so I captain and mis-manage teams in the football and (in the dim and distant past) the softball events. I'm happy to organise occasional sporting events too, along the lines of football, softball, tenpin bowling, golf, karting, etc., especially if the event is closely followed (or accompanied) by a meal and/or a few glasses of liquid refreshment.
Living in Central Scotland gives me the opportunity to take advantage of the surrounding terrain, both on foot and by bicycle - though maybe not as often as I should!
Connect with Computing Science and Mathematics


Computing Science and Mathematics
Faculty of Natural Sciences
University of Stirling
Stirling FK9 4LA
Scotland UK
+44 01786 467421
csm-office@cs.stir.ac.uk