New Honorary Professor, Prof Tariq Durrani
The Department has appointed a new Honorary Professor, Prof Tariq Durrani, lately of Strathclyde University. Below is some biographical information and some information about his connection to Stirling University.
We all look forward to working with Professor Durrani.
Brief Profile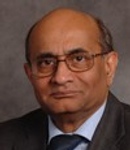 After doctoral and postdoctoral research at Southampton, Tariq joined the University of Strathclyde, Glasgow, as a Lecturer in 1976, and was appointed Professor of Signal Processing in 1982, the first on the subject in the UK. He was Head of the Department of EEE from 1986-90 and Deputy Principal from 2000-06. For the past 30 years, he has worked on and supervised some 60 projects sponsored by the EPSRC, the UK Department of Trade and Industry, and by several industrial organizations. He has supervised more than 40 PhD students and is the author/co-author of over 340 papers and six books. His research interests are in the areas of Statistical Signal and Image Processing, Technology Management and Higher Education Management. Professor Durrani is a Director of: the UK Leadership Foundation for Higher Education; the Glasgow Chamber of Commerce; the Institute for System Level Integration; and Council Member of the Scottish Funding Council. He is Vice President of the Royal Society of Edinburgh. He has been the General Chair of several flagship international conferences, such as IEEE ICASSP'89 and IEEE ICC'07. He is Past President of the IEEE Signal Processing Society and of the IEEE Engineering Management Society; past Chair of the IEEE Periodicals Council, member of the IEEE Publications Board, and Chair of the IEEE Education Board Awards and Recognition Committee, and Member of the IEEE Medal of Honor Committee. He was instrumental in establishing the prestigious IEEE Jack Kilby Medal in Signal Processing, and the IEEE /RSE Wolfson Maxwell Medal. He is a Fellow of the Royal Academy of Engineering, the Royal Society of Edinburgh and the IEEE. He was awarded the OBE in the Queen's Honours List in December 2002 for services to electronics and higher education.
Connection To Stirling
Professor Durrani has been collaborating with Dr. Hussain at Stirling in the area of Signal Processing over a number of years. The work has led to numerous joint research papers, research proposals and projects, and international conference organisation (e.g. IEEE ICEIS'2007 in Islamabad). Another current flourishing collaboration is through the China Scotland Signal & Image Processing Research Academy (SIPRA), which was established by Professor Durrani in 2008 as a partnership between seven leading Chinese and four Scottish universities (with Dr Hussain and Prof Smith lead SIPRA members/ experts from Stirling). The SIPRA inaugural Workshop was held in Beijing in Oct 2009 (www.china-scotland-sipra.org/) and is expected to lead to follow-on Staff and PhD students (funded) exchange research programmes. The new opportunity to collaborate with Prof. Durrani (through his Honorary appointment at Stirling) will further enhance joint activity, including with other CS Staff members and students (with related research interests).