PhD Studentship Topic
An Individual Interactions Approach to Biology/Ecology/Immunology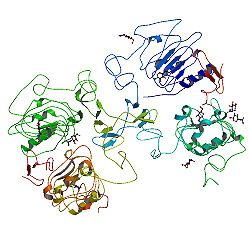 At Stirling we already have some success in using process algebra to model disease spread. We are keen to take the techniques developed for modelling epidemiology and apply them in the area of Systems Biology.
Systems Biology has become very popular as an application area for theoretical computer science in recent years. Most process algebra approaches are based on stochastic modelling of kinetic reactions in signal transduction pathways. For example, a suitable project might link to the modelling of the EPSRC Improving Patient Outcome project, looking at how radiation and drugs such as temozolomide effect changes in the cell cycle. Other interesting areas include ecological models of grazing and land use, or the immune response to parasite threat.
A student in this area would be supported by members of the Modelling and Analysis of Complex Systems group. The application area described above is just one example of many possible projects. The technique can be applied to a wide range of biological and computer systems: immunology, epidemiology, peer-to-peer networking, malware analysis, etc. The particular application can be modified depending on the experience and interests of the successful student.