Accent (Advanced Component Control Enhancing Network Technologies)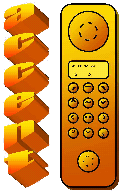 Introduction
Accent Project
Accent Achievements
Continuing Developments
Publications
Software
A service in the telecommunications sense is a package of network functions that is marketed separately. The telecommunications industry has long recognised the need for flexible and rapid development of services, but with the complication that services often interfere with each other (the service or feature interaction problem). Call control introduces a new type of difficulty - the policy conflict problem.
The flexibility possible with new service APIs and call control has worsened interaction problems. This is partly because a limited range of services can no longer be guaranteed, and partly because services are no longer under the control of one operator. As users tailor and control their own services, they can create policy conflicts. Other developments such as mobile communications and third-party service provision also have to be taken into account.
Services based on presence and availability are increasingly prevalent, with the corresponding need for policy control. Modern communication takes an 'always connected' view of users: via a phone in the office, a laptop while on the move, a DECT phone taken home from the office, a mobile phone anywhere. Users need to handle calls depending on who, why, where, when and what. Call processing is no longer restricted to simply accepting, forwarding or rejecting calls.
This was the background to the Accent project that ran from September 2001 to March 2005. It was supported by EPSRC (Engineering and Physical Sciences Research Council) under grant GR/R31263. Mitel Networks Corporation also supported the project financially and technically. The project was coordinated by Ken Turner as Principal Investigator, with Evan Magill as Co-Investigator. The project researchers were Stephan Reiff-Marganiec, Lynne Blair, and Jianxiong Pang.
The participating Mitel site was in Kanata (Canada). The project also benefited from collaboration with Luigi Logrippo of the University of Ottawa (Canada) and Joanne Atlee of the University of Waterloo (Canada).
The Accent project worked on an advanced language and supporting mechanisms for enterprises and individuals to specify their policies and preferences for call processing - particularly for Internet telephony. The project developed a call control language for defining user policies, for analysing conflicts in these, and for supporting policies in an operational environment. The methods and tools were designed for user-friendly description of call control using a policy language called Appel (Adaptable and Programmable Policy Environment and Language).
The aim of the project was to develop a comprehensive but practical policy system. This was designed to achieve greater flexibility than CPL (Call Processing Language). The main goals of the Accent project were:
to define a user-friendly call control notation
to perform rigorous off-line analysis of conflicts among policies expressed using PDL, reconciling these in the context of descriptions for more conventional services
to translate PDL policies into XML scripts that are executed in a SIP server
to detect and resolve policy conflicts at run-time
to undertake trials to evaluate the project approach on an infrastructure that showcases the new capabilities of packet-switched (IP) and wireless (mobile) communications.
Policy servers were linked to communications servers supporting SIP (Session Initiation Protocol), H.323 or a proprietary PBX (7000 ICS). The pragmatics of call control were complemented by off-line and on-line analysis of and policy conflicts. The project approach was evaluated in a test environment that exploited the new capabilities of packet-switched and wireless communications.
The concrete outcomes from the project were the Appel policy language, its associated tool support for execution and conflict analysis, a policy wizard for non-technical users to create and edit policies, and a validated set of policies. The project was particularly timely because service APIs and user-defined call control had only recently begun to be popular. The project exploited a window of opportunity to define how to handle this aspect of network programmability.
Accent was also linked to the Pith project. Pith exploited the same policy infrastructure, but using H.323 as the communications subsystem. Apart from H.323 and SIP support, the project also demonstrated the use of policies with conventional telephony, PBXs and wireless devices. This underlines the fact that the project approach is protocol-independent, device-independent, and platform-independent.
A three-layer architecture was defined for call policies, as shown in the following figure: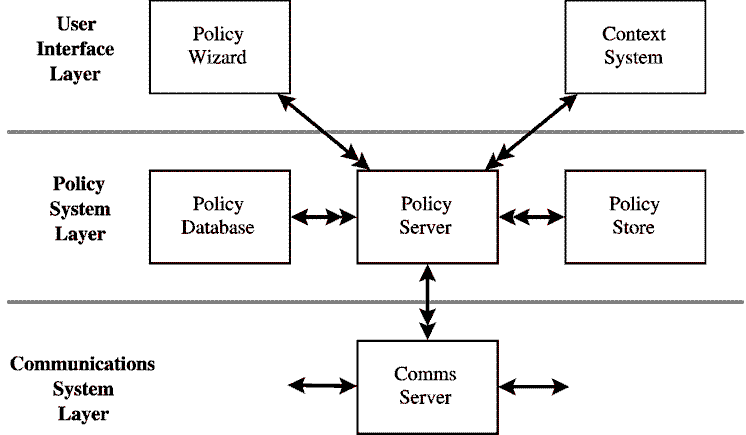 The communications system layer contains the communications infrastructure that is controlled by the policy system. Care was taken to make the policy system protocol-independent so that it could be used with a variety of communications systems. For example, the project approach has been demonstrated with SIP, H.323, conventional telephony, mobile telephony, PBXs and wireless devices (Blackberry, cellphone). A well-defined and protocol-neutral interface maps between call events in the communications system layer and events in the policy system layer. Communications servers and policy servers are associated in a flexible manner (1:1 or many:1).
The policy system layer is where policies are stored and enforced. A policy server is responsible for retrieving policies applicable to a call. Such policies may include those of the caller and the callee, as well as higher-level policies for the domains they belong to. The policy server then detects and resolves conflicts among this pool of policies. The result is a set of compatible actions, passed in a protocol-independent way to the communications system layer.
The user interface layer is where users interact directly with the policy system. A policy wizard allows users to formulate and edit policies. Considerable efforts went into making policies accessible to non-technical users. The policy wizard is web-based so that it can be used anywhere and on any system. On-line help and advice on problems are provided. The policy wizard is multi-lingual, allowing policies to be defined in near natural language. The user interface layer also provides a context system. This allows policies to be influenced by contextual information such as the user's engagements (from a digital diary), the user's role (based on organisational information), and the user's location (based on, say, an active badge system). The context system is mainly a framework for incorporating this kind of information; a prototype based on the user's diary was implemented.
The Accent policy system and the Appel policy language are being developed further in new application domains:
policy-based management of home care delivery (see the MATCH project)
policy-based management of sensor networks and wind farms (see the PROSEN project)
This new work has added significantly to the policy system capabilities. The extended architecture is shown in the following figure: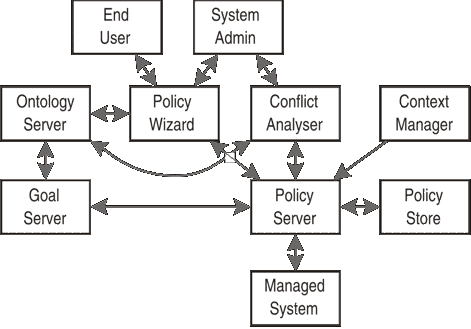 Managed System

The system under control (e.g. a call control system)

Policy Store

An XML database that stores information about goals and policies

Policy Server

The heart of the policy system. The policy server receives goals and policies from the policy wizard, and also information from the context manager. When goals or prototypes are modified, the goal server is called to statically analyse them. When an event occurs in the managed system, it selects relevant policies (i.e. those associated with this trigger and whose conditions are met). If any triggered policies derive from goals, the goal server is asked to find the optimal set. Conflicts among policies are then automatically detected and resolved. Finally, an optimal and compatible set of actions is sent to the managed system.

Policy Wizard

A user-friendly interface for defining and editing goals and policies

Context Manager

An interface for providing additional information about the managed system (e.g. the home configuration).

Conflict Analyser

A tool to analyse policies offline for possible conflicts

Ontology Server

A generic interface to ontology-based information about an application domain (e.g. call control). Domain-specific ontologies are used by the policy wizard, the conflict analyser and the goal server.

Goal Server

The heart of the goal system. The static goal analyser is invoked when goals or prototypes are altered. The dynamic goal analyser is invoked when goal-derived policies are triggered.
The final report to EPSRC summarises the key results of the original Accent project. The results of Accent and ongoing work to extend it are principally contained in the following articles:
Accent and other ongoing projects have developed a comprehensive set of software packages:
a policy server (PolServ), written in Java
a goal server (Ogre), written in Java
a policy wizard (PolWiz), written in JSP and Java
a policy module for SER (SIP Express Router), written in C
a policy module for GNU GK (H.323 Gatekeeper), written in C++
a policy module for the 7000 ICS (MKC Networks Integrated Communications Server), written in Java
a general-purpose ontology server (Poppet), written in Java, used by Accent to retrieve generic and domain-specific concepts
an offline conflict analyser (Recap), written in Java, used to detect conflict-prone policies and goals
sundry other packages, such as a context system to interface to a user's diary stored using Microsoft Outlook
On application to the Principal Investigator, a binary version of the policy system may be made available to bona fide researchers for non-commercial purposes.
---

Up one level to Ken Turner - Research Projects

Last Update: 18th July 2016
URL: http://www.cs.stir.ac.uk/accent/accent.html