Dr Nadarajen Veerapen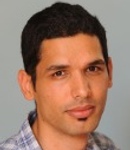 http://orcid.org/0000-0003-3699-1080
I am a Postdoctoral Research Assistant working on the "Cartography of computational search spaces" project funded by the Leverhulme Trust. I previously worked on the DAASE project funded by the EPSRC. I have been part of the CHORDS group at the University of Stirling since September 2013. I'm interested in meta and hyperheuristics but I do like to use exact methods when possible.
My current work revolves around several topics:
Search landscape visualisation — visualisations help us to understand both the problems and how the solving methods are able, or not, to deal with them.
Requirements optimisation — what requirements should be given priority in order to minimize cost or development time while making the stakeholders asking for requirements happy?
Hyper-heuristics — performing optimisation in the heuristic space in order to enhance the genericity of solving methods and make them easier to use by a wider public.
Optimising energy consumption — software can be designed, or modified, to improve its energy consumption on platforms such as embedded systems or mobile devices.
Teaching
Community Participation
Co-organiser of the Workshop on Landscape-Aware Heuristic Search, 17 September, PPSN 2016.
Co-organiser of the SICSA CSE Workshop on modelling and optimisation of real-world transportation problems (Jan 2015).
Program Committee member for GECCO (2017, 2016, 2015, 2013), EvoCOP (2017, 2016, 2015, 2014), EvoINDUSTRY (2017, 2016), PPSN 2016, JFPC (2016, 2015, 2014), CP Doctoral Program (2016, 2015).
Reviewer for IEEE Transactions on Software Engineering, Evolutionary Computation, Genetic Programming and Evolvable Machines and the Journal of Systems and Software.
External reviewer for EA 2015, UKCI 2015, PPSN (2014, 2012) and CP 2011.
Mini bio
I obtained my Licence (Bachelor's degree) in Computer Science from the University of Nantes, France, and carried on there with an International Master's degree in Computer Science specialising in Optimisation in Operations Research. My research work for my Master's was carried out at the University of Nottingham and involved developing a tabu-based hyper-heuristic for multi-objective optimisation.
In 2012 I received my PhD, funded by a Microsoft Research Scholarship, from the University of Angers, France. I worked on autonomous operator control for local search and focused on combinatorial optimisation problems. Half-way through my PhD, I had the opportunity to be a visiting researcher at the Austral University of Chile in Valdivia for one month. During my time in Angers, I was also a teaching assistant and mainly taught functional programming and introduction to algorithms.
Publications
Journals
N. Veerapen, G. Ochoa, M. Harman and E. K. Burke. An Integer Linear Programming approach to the single and bi-objective Next Release Problem. Information and Software Technology, Volume 65, September 2015, Pages 1-13, ISSN 0950-5849. DOI:10.1016/j.infsof.2015.03.008
International conferences
International workshops
N. Burles, J. Swan, E. Bowles, A. E. I. Brownlee, Z. A. Kocsis, N. Veerapen. Embedded Dynamic Improvement. In Proceedings of the Companion Publication of the 2015 on Genetic and Evolutionary Computation Conference (GECCO Companion '15), pp. 831–32. ACM, New York, NY, USA, 2015. DOI:10.1145/2739482.2768423
N. Veerapen, D. Landa-Silva and X. Gandibleux. Hyperheuristic as Component of a Multi-Objective Metaheuristic. In SLS-DS 2009: Doctoral Symposium on Engineering Stochastic Local Search Algorithms, Technical Report TR/IRIDIA/2009-024, IRIDIA, Université Libre de Bruxelles, Brussels, Belgium, September 2009.
French conferences
N. Veerapen, Y. Hamadi and F. Saubion. Sélection adaptative d'opérateurs pour la recherche locale et Progressive Party Problem. In Actes des Neuvièmes Journées Francophones de Programmation par Contraintes (JFPC 2013). Aix-en-Provence, France, June 2013.
N. Veerapen, J. Maturana and F. Saubion. Sélection adaptative d'opérateurs pour la recherche locale basée sur un compromis exploration-exploitation. In Actes des Huitièmes Journées Francophones de Programmation par Contraintes (JFPC 2012), pp. 318–327. Toulouse, France, May 2012.
N. Veerapen and F. Saubion. Sélection autonome d'opérateurs par dominance pour la recherche locale. In Actes des Septièmes Journées Francophones de Programmation par Contraintes (JFPC 2011), pp. 307–316. Lyon, France, June 2011.
PhD Thesis
N. Veerapen. Contrôle autonome d'opérateurs pour la recherche locale, PhD Thesis, Université d'Angers, Angers, France, November 2012. French Theses Open Archive
Master's Thesis
N. Veerapen. A Heuristic Selection Mechanism to Improve the Distribution of Non-dominated Fronts for the Multi-objective TSP. Master's Thesis, Université de Nantes, Nantes, France, July 2009.
---